Delhi is one of the most amazing places in India. There are multiple tourist places in Delhi. At one end, the city represents the zenith of India's advancement. While at the other it behaves as a time capsule for an ancient past. The plethora of cultural activities that one can relish here is unlike anywhere else. Over the ages, the land has served as a capital for many great Indian empires.
It has seen many architectural wonders such as the Red Fort, Qutub Minar, Isa Khan's Tomb, and Jama Masjid. The remains of which still prevail all over the city. It would be apt to call Delhi a cultural hub altogether. A true representation of endless diversity. And a land where history, culture, art, and modernity coexist.
Tourist Places in Delhi
In this guide, you will all the famous tourist places in Delhi that you must visit during your trip. This is a mix of heritage tourist places and some other popular tourist spots to visit in Delhi.
Historical Tourist Places in Delhi
Humayun's tomb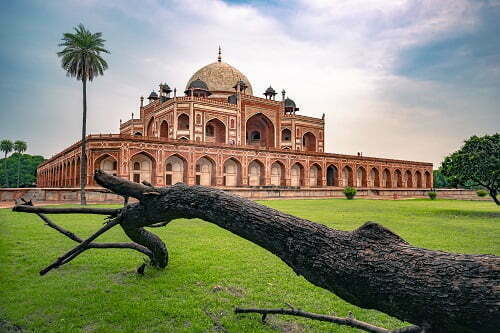 Located in the Nizamuddin area of Delhi, Humayun's tomb is the final resting place of the Mughal Emperor Humayun. This splendid piece of architecture was commissioned for construction in the years 1569–70 by Humayun's chief consort, Empress Bega Begum. Lies on the banks of the river Yamuna, this mausoleum holds the remains of many Mughal descendants of Humayun.
The architectural genius of Humayun's tomb is hard to miss. This monument is also the first garden-tomb in the Indian subcontinent, and it is one of the very few structures that use red sandstone on such a massive scale.
Also, read- Tourist Places in India
Timings: 10:00 AM – 06:00 PM
Entry tickets: 10 rupees for Indians, 250 rupees for Foreigners
Qutub Minar
Named after Saint Khwaja Qutbuddin Bhaktiyar, Qutub Minar is a landmark of medieval Indian history. The foundations for the Qutub Minar were laid by the founder of the Delhi Sultanate, Qutb Ud-Din-Aibak, in 1192 after defeating the last Hindu ruler of Delhi. The monument is a famous landmark indicating the beginning of Muslim rule in India.
Qutub Minar has five distinct storeys, and each of them has magnificent carvings. The top 2 storeys are made of marble and sandstone while the rest are purely red sandstone. This monument is also a UNESCO World Heritage Site because of its rich characteristics and historical significance. The Qutub complex is also home to the "legendary Iron Piller" of Chandragupta II. So, you can never miss a visit to this place.
Also, read- Jyotirlinga temples in India
Timings: 10:00 AM – 05:00 PM
Entry tickets: 10 rupees for Indians, 600 rupees for Foreigners.
Rashtrapati Bhavan
This is the symbol of India's strength that represents India. Serving as the home to the President of the world's largest democracy, Rashtrapati Bhavan is a work of art carved in stone. It was designed by Sir Edwin Lutyens and Herbert Baker.
It is an architectural marvel which is among the most famous tourist places in Delhi. The building is in an H shape and covers an area of 5 acres on a 330-acre estate. This mansion has a total of 340 rooms spread over four floors, 2.5 kilometers of corridors, and 190 acres of garden area. The sheer size of this monument makes it one of a kind. If you book an inside tour, you will embrace the beauty and delicacy of the luxury within.
Timings: 9:00 AM To 4:00 PM
Entry tickets: 50 rupees Per circuit
Red fort
Previously famous as Quila-e-Mubarak, the Red Fort of Delhi is a historical fortification built by Shah Jaha in the old Delhi area. It was a part of the medieval city of Shahjahanabad, presently known as Old Delhi. The Red Fort lies on the banks of the Yamuna River, whose waters feed the fort's moats. Every year on Independence Day, the Indian Prime Minister raises the national flag here. Owing to its extensive history and heritage, the Red Fort is one of the most popular UNESCO World Heritage Sites in Delhi.
Timings: 7:00 AM – 5:30 PM
Entry tickets: 35 rupees for Indians and 250 rupees For foreigners
Markets in Delhi
Khan market
If a visitor enquires about the most expensive market in New Delhi, it is unlikely for him to not hear of Khan market. Named after Khan Abdul Jabbar Khan, this place is considered to be the high point of luxury and class. Khan Market is a feature-rich place and is one of the top commercial centers in New Delhi.
This location will fulfill all your shopping needs with its infinite variety of shops. The market shows its true colors during the evening when all the lights add up to the glamour of this place. Khan market of Delhi also offers some of the most authentic flavors of Delhi. It is the perfect spot to enjoy the extravagance of New Delhi.
Timings: 8 AM to 10 PM
Connaught Place
If the Khan Market is for luxury, then Connaught place is affordable. This is one of the most popular markets in Delhi. It's a shopping paradise for shopaholics. With a wide range of items in various categories, the destination provides its visitors with an ideal location for combining window shopping with an evening walk. You can try a wide variety of local street food here. And, if you don't feel like being in the market, then you can visit the temples and gurudwaras that lie in and around this place.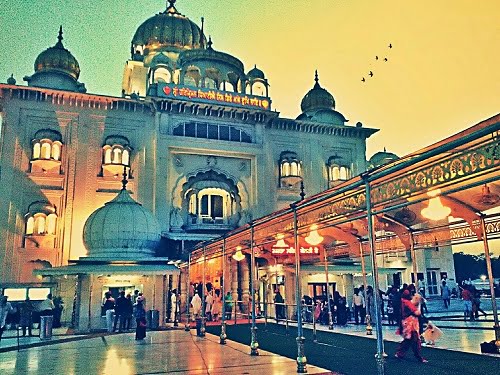 Also, read- Tourist Places in Chandigarh
Timings: 9 AM TO 10 PM
Heritage Tourist Places in Delhi
National Gallery of Modern Art
The National Gallery of Modern Art is heaven for all art lovers. The museum was built in the early 1950s by the Indian government to create awareness about the richness of Indian art. This gallery houses a collection of more than 14,000 artworks belonging to great artists. It includes the art of Abanindranath Tagore, Raja Ravi Verma, Gaganendranath Tagore, Rabindranath Tagore, and many artists. Following its motto of delivering an excellent world of art, the museum showcases a perfect blend of modern and contemporary art. This destination is indeed a sensory delight, which you must experience.
Also, read- Albert Hall Museum in Delhi
Timings: 11:00 AM – 6:30 PM
Rates: 20 rupees for Indians, 500 rupees for Foreigners.
Nehru Memorial Museum & Library
The Nehru Memorial is the most visited monument in the historic Theen Murti complex. This building was designed by Robert Tor Russel. The Nehru Memorial and Library is an autonomous institution under the Ministry of Culture. The museum aims to preserve and reconstruct the history of the Indian independence movement.
It inspires the young generation and represents contemporary Indian history. The place serves as an archive for many historical documents and manuscripts. Theen Murti Complex also houses the Pradhan Mantri Sangraha and a library that serves as a knowledge center. The authenticity and rich history of this place make it a top destination for every Indian citizen.
Also, check- Rishikesh Tour Package
Timings: 9:00 AM – 5:30 PM
Entry tickets: Free entry
Museum of Illusions
The Museum of Illusion in Connaught Place, New Delhi, is India's first optical illusion museum. It is a great location to have an exciting experience. The exhibits in this museum include a chamber with no gravity, rooms with reality-altering mirrors, and much more. Along with that, the museum also has a ton of holograms that create an illusion. The museum also provides an option to view photo illusions, which come with all kinds of backgrounds and experiences. A visit to this museum is an experience that you should not miss!
Timings: 11:00 AM – 8:00 PM
Rates: 520 rupees for children above 3, and 650 rupees for adults
Religious Tourist Places in Delhi
Hazrat Nizamuddin Aulia Dargah
If you have ever watched the Bollywood film Rockstar, then it is impossible for you to not recognize this place. The Dargah of Hazrat Nizamuddin, as the name suggests, is the burial place of the world-famous Muslim Sufi Saint Nizamuddin Chisti. Built in the year 1526, this complex is made up of red stone and white marble.
The site is the epitome of music, spirituality, and worship. In the evening, the walls of Dargah resonate with the melody of Qawwali. And, those who visit this holy place often claim to have had life-changing experiences. The aura of this place is so pure that it attracts souls from all over the world. Words can never do justice in describing the magic of this space. Without a doubt, the Dargah of Hazrat Nizamuddin is the most iconic place in Delhi.
Also, read- Nehru Garden in Jaipur
Timings: 05:00 AM- 10:30 PM
Akshardham Temple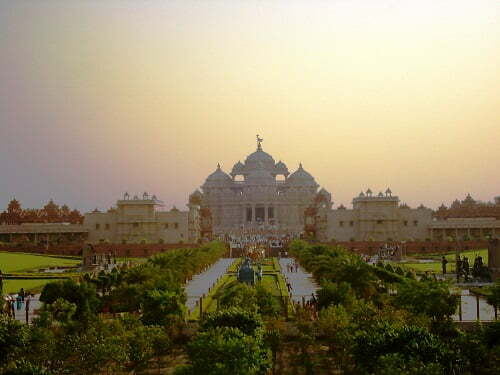 A famous Hindu temple, also popular as Swaminarayan Akshardham. The Akshardham temple is a pinnacle of Indian culture, spirituality, and architecture. This spiritual-cultural complex is dedicated to Lord Swaminarayan, and it has earned the title of "World's Largest Hindu Temple" in the Guinness Book of World Records. The stunning architecture and the rich tradition of this place attract visitors from all over the world. Also, the magnificence of this place is compelling, making it among the wonderful tourist places in Delhi.
Also, read- Mathura Vrindavan Tour Package
Timings: 10:00 AM – 8:00 PM
Entry tickets: 120 rupees for children, and 220 rupees for Adults
Lotus Temple
The Lotus Temple is a religious structure dedicated to the Baha'i faith. It is one of seven Baha'i Houses of Worship located throughout the world. This magnificent structure has mesmerizing architecture that will push you into an introspective silence. The walls of this monument unfold in the shape of a magnificent white lotus.
It is among the world's most visited tourist places. This temple seeks to spread the oneness of the Almighty and unites all religions, races, and genders. In the temple complex, you can read and chant religious texts of any faith. And, musical renditions of religious texts can be sung without inhibition. The Bahai Lotus Temple is without a doubt one of the must-visit places in Delhi.
Also, read- Panchmarhi tour Package
Timings: 9 AM to 5 PM
Entry tickets: free
FAQ's about Tourist Places in Delhi
Q1. Which are the most famous nearby tourist places in Delhi?
Red fort, Akshardham temple, and Humayun's tomb are some of the most famous nearby tourist places in Delhi.
Q2. How much time do I need to visit Delhi?
It may take around 2 to 3 days to visit the most popular spots.
Q3. Which are the best tour packages for visiting Delhi?
We have multiple tours for Delhi. Please contact us for details.
Q4. Which are the best hotels to stay in Delhi?
There are many hotels depending on your budget. If you are looking for it, please reach us.
Other Tourist Places Near Delhi
Shimla
Kasauli
Chandigarh