This is a beautiful palace in Pink city. The City Palace of Jaipur is famous for the large collection of antiques and the amazing design of the palace. And, a view of the Govind devji temple that lies in front of it is no doubt a great experience for visitors.
About City Palace of Jaipur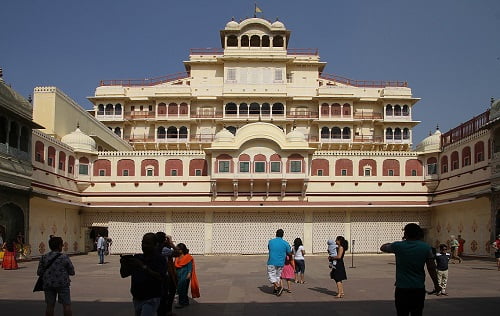 The city palace of Jaipur attracts tourists with the charm of the art gallery and the Mahal that makes it interesting. There is a museum with a large collection of things that were used by former rulers. These are weapons, clothes, jewelry, antiques, and many other things that represent the lifestyle of Rajput Maharajas.
What to See in City Palace Jaipur
This palace hosts in the most beautiful city of India, Pink City. With the wonderful history and the touch of art, this palace is a must-visit destination to explore in Jaipur.
The city palace of Jaipur is known for the royal residence of former rulers. Now, this has turned into a museum which gets surrounded by tourist most of the times. There is a museum, royal mahal where royal family lives, and also the art galleries that make it enticing place.
Also, read- Things famous in Jaipur
Things to See in this palace are Chandra Mahal, Mubaarak Mahal, Diwan-e-aam, Diwan-e-Khas, and Pritam Niwas Chowk. In addition, the view of Govind devji temple from this palace glorifies it with the enchants of faith in god. Also, the Bagghi Khana is an interesting place where you will find various Bagghi (Chariots) which is the symbol of the luxury lifestyle of former rulers.
History of City Palace
This palace was built by Sawai Jai Singh II. It was constructed when the capital of Jaipur was shifted from Amber to Jaipur. Then, it became the residence of Rulers of Jaipur state. And, till now the royal family lives here.
Also, read- Places to Visit in Jodhpur
Everything About Kedarnath Temple
Architecture of City Palace of Jaipur
This seven-storey palace has designed with amazing architecture. By using the basic principles of Vastu Shatra, this is built in a unique design. It resembles the combination of Rajput and Mughal architecture. So, it has similarities with other Rajput style palace and also the Mughal designs.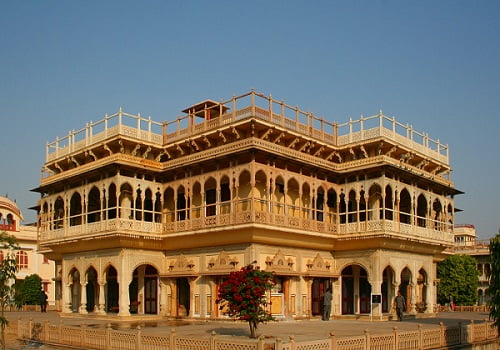 There are various sections in City palace. These are Pritam Niwas Chowk, Mubarak Mahal, Diwan-e-aam, and Diwan-e-Khas. Chandra Mahal is the main residence of the former Maharajas. While there are other Mahals as well along with the large courtyards.
Also, read- Book holidays in India
Other Facts of City Palace
Pink city is also famous for the celebration of festivals. Especially, the traditional festivals of Jaipur make it an exciting place. So, the courtyard of this palace is a witness to the festivals in Rajput Culture.
There is a Palace of the Queen of Jaipur which is popular as Maharani Mahal. While there are various sections of art galleries with a large collection of artifacts, paintings, and mirror work.
The city palace of Jaipur has entry gates. These are lotus gate, green gate, rose gate, and peacock gate. Among all, the most beautiful is the Peacock gate which has a beautiful design of peacock that is the most interesting thing in this palace. However, this palace is also famous for the collection of the world's largest silver vessels which stands in the Guinness book of world record.
Time to Visit Jaipur City Palace(Chandramahal)
9:30 AM to 5:00 PM- Regular Timings
5:30 PM to 10:30 PM- Light and Sound show
Entry Ticket
Museum- 130 Rupees for adult
kids- 70 Rupees
Night Show
Adult- 450 Rupees
Kids- 220 Rupees
Special (To visit chandra mahal and other private sections)
Adult- 2500 Rupees
Kids- 1500 Rupees
How to Reach Jaipur
This city is well connected with other major cities with bus and railway. However, direct flights are also available to Sanganer international airport of Jaipur. So, it's convenient to reach here.
Nearby Places to Visit in Jaipur
Amber Fort, Hawa Mahal, Jantar Mantar, and Jaigarh Fort are the nearby places of city palace Jaipur.
Frequently Asked Questions
Q1. Who is the present Princess of Jaipur?
Diya Kumari is the present Princess of Jaipur who lives in the royal palace.
Q2. What are the must visit experiences of this place?
You must see the beautiful design of a peacock and also the mirror work. However, antiques and armory make it much interesting.
Q3. Is it good to hire a tour guide before visiting this historic place?
For those, who want to know the historical facts of Jaipur city palace, hiring a tour guide will definitely help. However, for most of the peoples, it may be boring to dive into history. So, it depends on the tourist itself.
Q4. Is it among the most popular tourist destinations of Jaipur?
Of course! It's the most famous place to visit in Jaipur among visitors. So, it catches a lot of tourists in Jaipur.
Book a Trip With Us
Jaipur is a great place with a blend of culture, history, and many other things that attract tourists. With the glory of such monuments and the charm of this pink city, you will never resist visiting this wonderful destination.
Every year tourists make this city much beautiful. We can make your journey unforgettable by providing you the most affordable and convenient packages. And, we also offer custom packages that suit all of your needs. So, why are you waiting for? Drop a message or contact us to make awesome trips.
To get updates, follow us on social media. And, also drop a comment below to share your thoughts.