The Jyotirlinga of India are famous among devottees of lord Shiva. There are 12 Jyotirlingas in India which are also known as "Dwadash Jyotirlingas". These are considered to be most secred and every hindu visit these temples once in there life. Therefore, In this guide, we will tell you everything that you need to know about Jyotirlinga temples of India.
Dwadash Jyotirlinga of India
Probably you have already heard about famous 12 jyotirlinga of India. Each of it has a unique story behind it. Jyotirlinga temple at Ujjain is popular as Mahakaleshwar, and the temple at Bhimashankar known as Bhimashankar Jyotirlinga. And, so on.
In hinduism, it is considered as all of these Dwadash Jyotirlinga of India gives positive vibes to devottees of lord Shiva. You can get good energies by visiting such shiva temples. Also, there are different kind of prayers by pandits at these temples. They do it by following all the religious customs of hinduism.
Shiv is the god that gives you everything you pray for. He gives knowledge, peace, and many more. Therefore, all subcastes of hindu religion have belief in Lord shiva. There are Kawad yatras, Amarnath yatra, Kedarnath yatra and many more. All hindu devottees have strong faith in him.
List of 12 Jyotirlinga in India
This is a list of all the most popular dwadash jyotirlingas of India that you should not miss during your religious trip.
Kedarnath temple
Bhimashankar jyotirlinga
Mahakaleshwar temple
Omkareshwar temple
Nageshwar temple
Rameshwar temple
Mallikarjuna temple
Baidyanath temple
Grushneshwar jyotirlinga
Triambakeshwar temple
Kashi Vishwanath temple
Also, read- Maharashtra Jyotirlinga Tour Package
How to Visit 12 Jyotirlinga of India
If you are planning your trip to all dwadash jyotirlinga temples of India. Then, you must check the best route to follow during your trip. If your trip planning is not well then you may face difficulty during temple darshan. So, we suggest you to ask the best route by someone who knows well about all temples location and other details.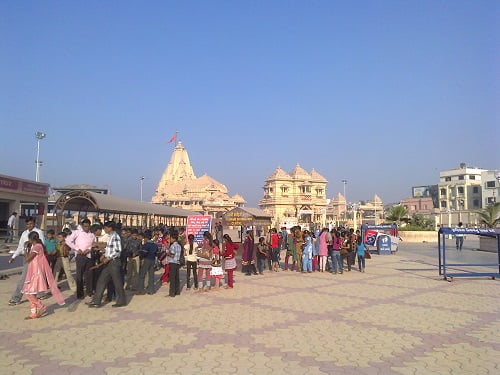 We, at Goniks Travel, are team of dedicated travel professionals which offers tour packages all over India. Our only purpose is to make travel easy and affordable. So, no need to worry about your travel plans and transportation. We will do the best on behalf of you.
Book Jyotirlinga Tour Package
Jyotirlinga India Map
This is the best route of all jyotirlinga temples in India. You can book a tour package or plan it by your own. The choice is yours. But, we will suggest to book with a trustworthy tour agency. Let's check it below.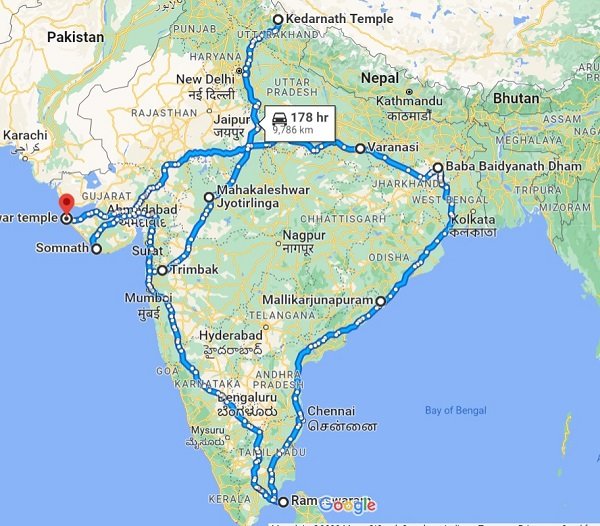 Location of Famous Shiva temples in India
Gujarat- Somnath jyotirlinga
Maharashtra- Grushneshwar, Bhimashankar and Triambakeshwar
Jharkhand-
Uttar pradesh- Kashi vishwanath
Madhya Pradesh- Mahakaleshwar and Omkareshwar
For more details, we are online. contact us now!
FAQ's about jyotirlinga temples of India
Q1. Which are the 12 jyotirlinga temples of India?
All of these temples are listed above.
Q2. How can I visit dwadash jyotirling?
You can plan your trip accordingly as per your current location, budget, mode of transportation and many more. Please contact us for help or tour bookings.
Q3. How much time it will take to visit all famous jyotirling temples of lord shiva?
It may take around 15 to 20 days. However, it may vary.
Q4. Shall I book a tour package or travel on my own?
It depends on your budget and facilities. If you have good budget, then book tour package. And, if it's very low budget trip, then book train tickets by irctc or contact us to make it affordable.
Q5. How much does it cost to book tour package for 12 jyotirlinga darshan?
It varies by group size. For cost of the tour package, please feel free to contact us.
Book tour packages for Panchmarhi to experience the magnificent hills of Satpura range. At Panchmarhi, you can visit many tourist places. This hill station is a perfect blend of wildlife species to the beautiful nature Read more…