Kashmir is the Northern state of India. You can easily travel the distance from kashmir to kanyakumari by various modes of transportation. Cover Kashmir to Kanyakumari distance by bus, train and flight as well. In this post, you will know all details for your trip.
Kashmir to Kanyakumari
Jammu, Kashmir and Ladakh all three surrounds by great Himalayas in India. Jammu, kashmir and ladakh are the union territory of India. Kashmir is among popular tourist places in India that is famous for its breathtaking beauty. The scenic beauty of himalaya ranges which will definitely melt your heart.
Distance From Kashmir to Kanyakumari
Kanyakumari is basically a coastal town of Tamil Nadu situates in the south India. It is also a popular tourist destination for travellers and magnificent views of the sunrise.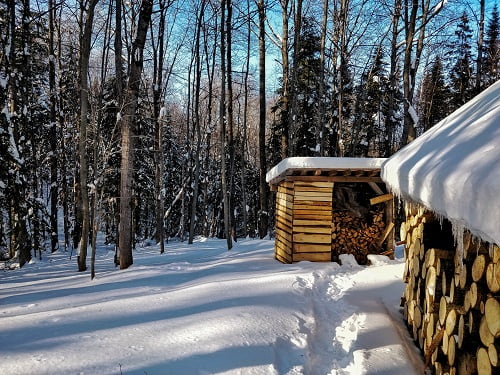 In Kanyakumari you will witness the confluence of Arbian sea, Bay of Bengal and India ocean. You can enjoy the great view of sunrise and sunset. Also, enjoying a ferry ride over Thiruvalluvar statue is an unforgettable experience.
There are many ways to reach kanyakumari from Kashmir. You can book a flight, bus and also a personal cab. This is a very long distance so booking a flight or a cab is much better.
Kashmir to kanyakumari distance via Road is 3,676 kilometers
The distance from Kashmir to Kanyakumari via Flight is 2,887 kilometers
It takes around 62 hours to reach kanyakumari from Kashmir via Road
Nowadays many travelers prefer to go for a road trip or visit Kanyakumari from Kashmir. The total Distance between Kashmir and Kanyakumari is 3676 KM. Kanyakumari is lies opposite to the Kashmir. One is in North and another is in South.
Also, read- Jyotirlinga in Maharashtra
Hotels in Indore
Although there is no bus service available from kashmir to kanyakumari directly. So, you can travel this distance from kashmir to kanyakumari in 2 days. And, it goes though many popular cities of india including Ajmer, Pune, Bangalore and many more.
Shortest Distance from Kashmir to Kanyakumari via Bus, Train and Flight
Fly Srinagar-Trivandrum- 10 hours
Sri Nagar- Bus-Jammu-taxi-Jammu tawi-Train- Kanyakumari- more than 2 days
Kathua- Taxi-Dharamshala- Flight-Trivandrum-taxi-Thiruvananthapuram Central- train- Kanyakumari- 12 hours
Fly Jammu-Madurai-bus-Periyar bus stand-bus-Kanyakumari
About Kashmir
Kashmir is the land of diversity and we can't ignore that panoramic view of Kanyakumari. And, Kanyakumari is also famous as the last tourist destination of India from north to south.
Also, read- Hotels in Bhilwara
Best Places to visit in Bhilwara
Kashmir to Kanyakumari Route Map
If you are taking the road trip from kashmir to reach the southern point of india, Kanyakumari. Then, you have to go through many popular tourists spots of india.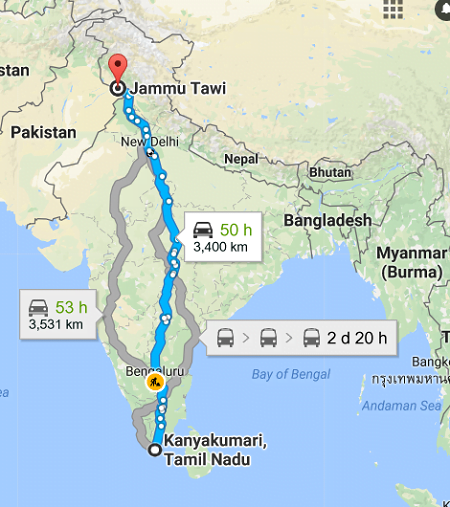 Leh
Kullu-manali
Chandigarh
Delhi
Agra
Jaipur
Ahmedabad
Mumbai-goa
Goa- Bangalore
Wayanad
Alleppey
Kanyakumari
Why Book with Goniks Travel?
Goniks Travel offers you the best travel package with additional discount and cashback offers. It is the most reliable and trusted online travel booking agency which can support you for all travel related issues. We provide hotel booking to cab/taxi booking, and online train/bus ticket bookings. By booking with us, you get round-the-clock customer support.
Also, check out- Jaipur to Bikaner bus
Places to visit in Mount abu
Book Kashmir to Kanyakumari Trip
Make your trip from kashmir to Kanyakumari with us and save your time and money. We will provide you the best options as per your budget and requirement. So, call us now at 9588839997 or contact us to get a free quote for your journey.
Also, read- Restaurants in Bhilwara
FAQ's on Kashmir to Kanyakumari Distance
Q1. How far is kashmir from Kanyakumari?
The distance is approx 3700 kilometers by road. However, it may vary by flights or train as per your preference.
Q2. How to reach from Kashmir to Kanyakumari?
You can travel by cab/taxi, train, and bus. However, this is a long distance so train may be much better than other modes of transportation.
Q3. Can I book cab between kashmir and Kanyakumari?
Yes. You can definitely book a cab/taxi between these places. Please contact us at 9588839997 if you are planning a trip.
Q4. What are the best places to discover during this trip?
You can explore Delhi, Agra, Jaipur, Bengaluru, Goa on the way.
Q5. How much time it takes to reach in this journey?
It takes around 13 hours by flights and 2 days by train.
FACEBOOK INSTAGRAM TWITTER PINTEREST