There is 5 jyotirlinga in Maharashtra that attracts a lot of spiritual tourists. These jyotirlingas are among the 12 jyotirlingas of India. As per Hindu religious views, these are the must-visit temples for every person. So, the spirituality and devotion of devotees make it much interesting. Let's know more by this list of jyotirlinga in Maharashtra. Also, get the exact location of these temples by jyotirlinga in maharashtra map.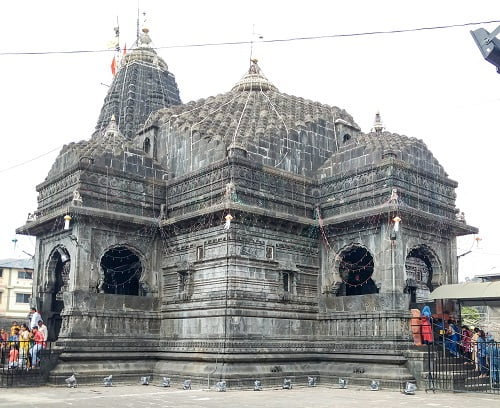 These jyotirlingas are mostly surrounded by devotees, especially during Shivratri. For lord shiva's bhakti, many visitors come here to pray. And, they get the spiritual vibes by visiting such peaceful places.
After booking a hotel in Pune, we headed to these popular jyotirlingas of Maharashtra. These are very popular places that every tourist should visit during a religious trip to Maharashtra.
Also, read- Iskcon temple Pune
5 Jyotirlingas in Maharashtra
Triambakeshwar Jyotirlinga at Nashik
This is the most famous jyotirlinga of Maharashtra. The shiv linga of triambakeshwar temple has three faces of Brahma, Vishnu, and Mahesh. Triambakeshwar is also an origin of the Godavari river. With the divine atmosphere, devotees of lord shiva attract this holy place in India.
Bhimashankar Jyotirlinga at Pune in Maharashtra
This is a temple of lord shiva, which has a shiva linga known as Ardhnarishwar. And, it's also an origin of a river, Bhima river. So, it's popular as bhimashankar jyotirlinga in Maharashtra. There are also some other temples at the ghats of this river. Also, some devotees take holy baths at the bay of Bhima river. However, safety is a must before doing so.
Also, read- A Visit to Shirdi Sai Baba Temple
Why Mumbai is a Great Places to Explore
How to Reach Bhimashankar Jyotirlinga
You can reach Bhimashankar Jyotirlinga in Maharashtra by hiring a cab. It is around 100 kilometers from Pune which takes 3 hours to reach. So, book a taxi to bhimashankar jyotirlinga in advance. Also, you can reach here by public transport.
Grishneshwar Jyotirlinga in Aurangabad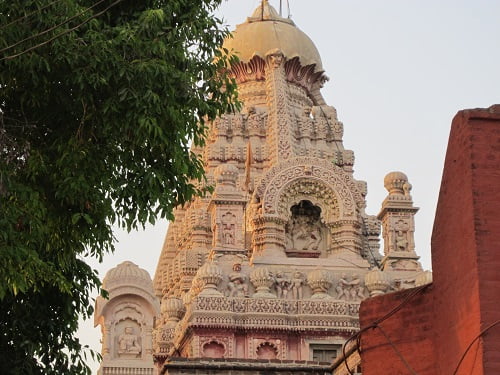 It lies among the most important jyotirlinga in the Hindu religion. Grishneshwar jyotirlinga has importance among all 12 jyotirlingas of India.
Timings
The timings of visiting the temple is 5:30 am to 9:30 pm.
Aundha Nagnath Jyotirlinga in Maharashtra
This temple of Lord Shiva is another jyotirlinga in Maharashtra. Many peoples consider that the Aundha nagnath temple was built by a Pandav, Yudhishthira during their exile(agyatwas). Devotees of lord shiv visit this temple to avoid the negativity in their life.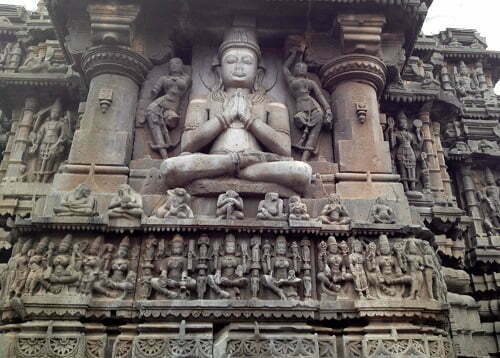 Parli Vaijnath Jyotirlinga in Maharashtra
With the divine ambiance and the touch of nature, this temple lies down to the hills near parli town. There is a saying that lord shiva was impressed by the bhakti of Ravana and gifted him this shivlinga. So, this jyotirlinga also has significance as a popular Hindu temple of lord shiva.
Also, visit- Things to do in Mumbai
Maharashtra Jyotirlinga Tour package
Book a tour package to visit all the jyotirlingas in Maharashtra with a guided tour, accommodation, food, and everything that makes your trip easy. And, for more details about this tour package, kindly provide your details below.
Jyotirlinga in Maharashtra Map
This is the detailed map of visiting all of the famous jyotirlingas of Maharashtra. This Jyotirlinga in Maharashtra map will definitely help you plan your trip.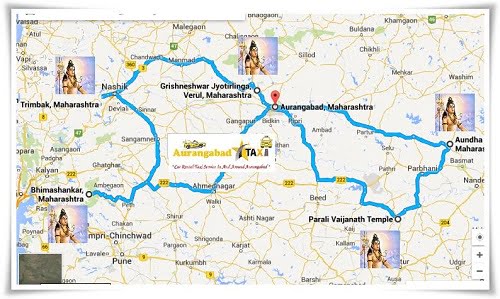 Other Famous Jyotirlinga in India
There are some other famous jyotirlingas of India which are popular among spiritual and religious tourists. Especially, Hindu devotees of lord shiva should never miss such peaceful places.
During your divine journey of spirituality, these places will definitely keep you closer to the source of this universe, Lord Shiva. Let's have a look at other jyotirlingas in India!
List of Jyotirlinga in Maharashtra
Somnath temple, Gujarat
Mallikarjun Temple, Andhra Pradesh
Vaidyanath Temple, Bihar
Rameshwaram temple, Tamil Nadu
Nageshwar Temple, Dwarka
Vishwanath temple, Varanasi
Omkareshwar temple in Madhya Pradesh
जय शिव शम्भू!
How to Reach at Jyotirlinga in Maharashtra
You can reach various jyotirlingas in Maharashtra by reaching a point that is close to all of the places. We reached Pune because it's near to other places. However, it's up to you to pick a place to visit at first.
Heritage tourist places in Maharashtra
What Visitors Say About this Place
Great trip!
★★★★★
"
We booked our tour with goniks travel. They provided best hotels and cabs for our family. Its a memorable trip to all the 5 jyotirlingas of maharashtra. Thanks for making our journey perfect.
"
Very Peaceful
★★★★★
"
I've visited Kedarnath and Somnath. These are divine places in Hinduism. I hope to visit all jyotirlingas of Maharashtra soon.
"
My experience of visiting jyotirlingas
★★★★★
"
Jyotirlingas are a very famous pilgrim in hinduism. So, I visited all the jyotirlingas with my family. It was great to visit all the popular jyotirlingas of India.
"
★★★★★

based on

3

reviews.
Overall rating:
Give a Review
How to Reach
You can reach the famous jyotirlingas of Maharashtra by booking a cab from Pune. Also, booking a tour package is better option.
Famous Jyotirlinga in Maharashtra
Triambakeshwar, Grishneshwar and Parli Vaijnath are some of the popular shiva temples of Maharashtra.
Tour Package Cost
Our Jyotirlinga Tour package starts from just 8,000 Rupees per person including stay, food, and local transportation.
Read- 20 Best Tourist Places in India
Why Rajasthan is Perfect Place to Explore
Famous Tourist Places in Maharashtra
Gateway of India
Ajanta Caves
Elora Caves
Elephanta Caves
Chhatrapati Shivaji Terminus
Kaas Plateau
FAQ's About Jyotirlinga Temples in Maharashtra
Q1. How many jyotirlingas are in Maharashtra?
There are 5 jyotirlingas in Maharshtra.
Q2. Can I visit all jyotirlingas in 5 days?
yes. 5 days are enough.
Q3. How to reach all the temples from Mumbai?
We offer tour package from Mumbai. Make sure to contact us for temple darshan.
Q4. How much does it cost to visit all 5 Jyotirling temples of Maharshtra?
It may vary on trip dates, your current location, and your requirements.
Q5. Can I book a tour package for visiting from Nashik?
Yes. we offer trips at affordable prices. Please contact us for more details.
Also, follow us on social media to get updates about new posts related to tourism in India. And, don't forget to drop a comment if you like this post.
FACEBOOK INSTAGRAM PINTEREST TWITTER YOUTUBE