There are many places to visit in mount abu which is the only hill station in Rajasthan. This is one of the coldest places of Rajasthan. So, the temperature is relatively very less than in other places of Rajasthan. Therefore, Mount Abu attracts a lot of tourists.
It's a wonderful place to spend holidays or a trip with friends. The magnificent landscapes, hills, temples, and a beautiful lake attracts tourists to this hill station of Rajasthan.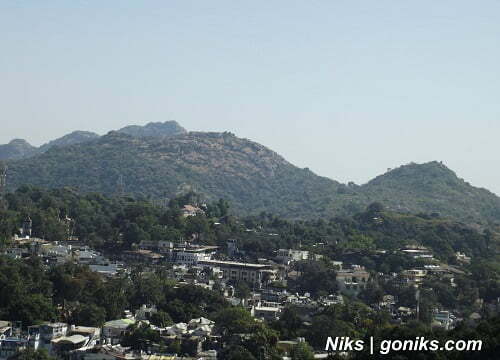 It comes in the southern region of Rajasthan. This is a town which is about 30 km far from Abu road which is the nearest station to this place. Udaipur is the nearest station to Abu road. This town is highly influenced by Gujarati culture as its located near to Gujarat. along with Rajasthani tourists, it also attracts tourists from Gujarat and other nearby places.
Best Places to Visit in Mount Abu
Nakki Lake
GuruShikhar Peak Point
Sunset point
Lovers Point
Delvada Jain Temple
Adhar Devi Temple(Arbuda Devi)
Toad Rock
Hanuman Temple
Om Shanti Bhavan
Shankar Math Shivling Temple
AchalGarh Fort
As it is a hill station, most markets and tourist places are crowded by couples. Especially in evening time markets have a rush as its the time when tourists hang around.
There are many places to visit in Mount Abu that mesmerizes tourists. You can also buy antiques like keychains and other usual products in the markets. Woolen clothes and accessories like woolen hat, cap, and Scarfs are useful. You can buy these from the local markets of Mount Abu.
Adventurous Places to Visit in Mount Abu
Nakki lake is a natural lake that is close to town. This is one of the most beautiful lakes in Rajasthan. Its water is green which makes it alluring.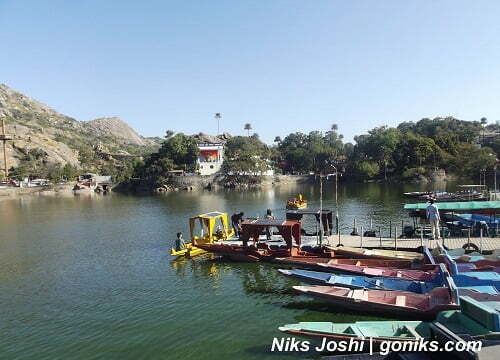 This lake is considered a holy lake in the Hindu religion. This is a saying that this lake was made as god dug by nail and some say it was dug out by a demon. There is a temple at the shore of this lake which is the Bharat Mata temple.
There is a garden which is pleasing to spend some time. Boating facility is also available here which may be good for those who don't want to sit in the garden. Some fountains in the middle of this lake seem good.
Nakki lake stands as the best Mount Abu sightseeing. This is considered as the best place. It is close to the city and a good place too. There are some restaurants and hotels near this lake where Rajasthani food, as well as Gujarati dishes, can be good options.
Guru Shikhar Peak Point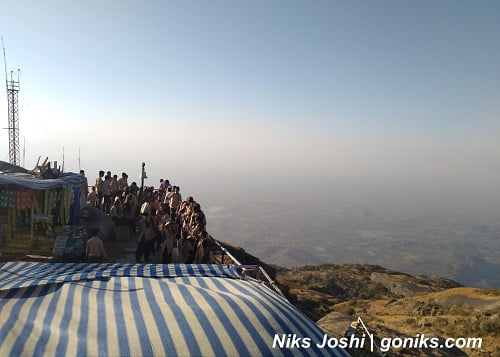 This is the peak point of Mount Abu. It is the highest peak of Rajasthan which is about 1722 meters from ground level. So, this is famous as "GuruShikhar, means The highest(guru) of all peaks. The view from the top is amazing. After heading up a lot of steps you reach a temple which is Gurushikhar temple.
There are too many stairs and is tiring to reach this point, But after it, the views from this peak pull out all the tiredness. Guru Shikhar is the most popular hill station of Rajasthan which is considered among places to visit in mount abu. There some shops on sideways of stairs and near the temple. One temple is in a cave and another one is at the top of this peak.
personal tip- As its a peak so it will be better to keep the cell phone in the pocket and focus on stairs. Safety is needful visiting such places
Places to Visit in Mount Abu for Couples
Sunset Point
This is another beautiful destination to explore. Sunset point is considered as the best places to visit in mount abu which is worth visiting. This is near to the town and is close to the nakki lake. There is a wildlife zoo along with this point. The best time to visit this is evening obviously to have sight of the sunset.
The view of the sunset with the orange sky is pleasing and breathtaking. And, the Landscapes all around this place make it a serene view. So, the sunset point is considered as the offbeat Mount Abu sightseeing. . This view is only visible for half an hour in the evening.
Lovers Point
Lovers point is a location on a hill which comes on the way to Gurushikhar peak. It gives mindblowing views of landscapes and a lake. Sceneries with lake make it much interesting and is literally a point of attraction for tourists and mostly couples. The pattern of mountains is a bit unique in itself. Its a perfect location for taking some stunning pictures and selfy.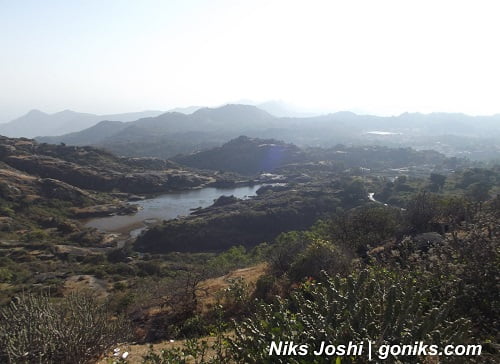 It is named so as some lovers and couples can be seen here in this place. Horses are available here if you want to take a picture sitting on a horse. They also have some colorful costumes to take pictures.
Religous Places to Visit in Mount Abu
Delvada Jain Temple
This is a popular holy temple of Jain religion. It is the most famous place in Jainism which was made by former rulers. Some of them were Rulers and others were those who had faith in Jainism.
When it comes to its design and architecture, its one of the best places in terms of its design and structure. This is made of white marble(Sangmarmar). Carving on the stone is very accurate and fine, that it looks excellent.
There are some eye-catching designs on the ceiling. These are carvings on white marble. And also, the guide gives details of all these designs. These temples are the religious must-visit places during Mount Abu sightseeing.
A statue of Mahavir is another attraction of this temple which is made of gold(actually gold polish). This one is very costly in terms of money and No doubt its value more than its price, It's priceless. It's free to visit this temple and priests of this temple work as a guide which is free of cost. Devotees can donate money for charity and temple funds.
(No Pictures are allowed inside or outside the temple)
Also, read- Jyotirlinga in Maharashtra
Adhar Devi Temple(Arbuda Devi)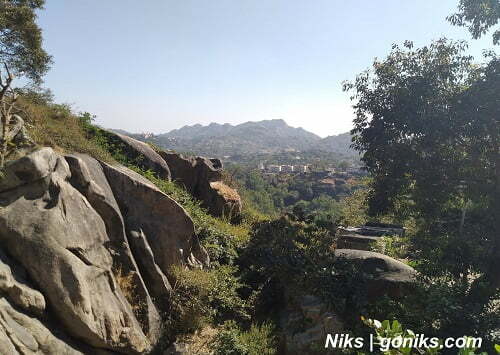 This is another temple in the town, which is located on a hill. It takes about 20-25 minutes to reach the temple by stairs. After reaching on the top of this temple, there is some stunning view of nature and mountains. While going up the stairs, along with those views, there are some monkeys on the way, so it's better to keep safe. It's great to feed them some fruits or eatables.
After reaching on top, There is a cave to go inside the temple. This is a very narrow cave so you have to Keep your head down to reach over to end. As its a narrow cave so it takes some time to be in a queue and keeping your head safe up to having sight of the goddess. So, Adhar devi temple stand among the religious places to visit in mount abu.
Toad Rock(Looks like Frog)
This is a Structure of rock in the shape of Toad(frog). After heading up by stairs which take about 15 minutes, it comes a rock which is stunning. Views of the city are nice from this place. This is just close to Nakki lake. A variety of rocks is one of the best things in Mount Abu. Toad rock is considered the most interesting mount Abu sightseeing.
Personal tip – On the way to reach on this rock, you have to climb up-stairs through some wild area which may have bears, so it's better to know about a place by a local guide or someone who knows about this area.
Other Famous Places to Visit in Mount Abu
Hanuman temple
This is a temple of Lord Hanuman which is also located on a hill which is about 6000 feet above ground level. Horse ride is also available to reach the temple as it may be tiring to reach through stairs.
Om Shanti Bhavan
This is a Peace hall of Brahmekumari which is a spiritual university for meditation and peace. Its branches are located worldwide. It provides courses like yoga, meditation, and organizes seminars for stress-free living.
It also works as an NGO. Its headquarter is located here in Mount Abu. This NGO represents equality because mostly women operate this organization for public welfare.
Shankar Math Shivling Temple
This is a temple of lord shiv with shivling, which is famous as Shankar math. The surrounding atmosphere has plants and flowers which gives it a natural view. It is located near to the city. However, no photography is allowed inside the temple, so better to follow rules.
Achalgarh Fort and Temple in Mount Abu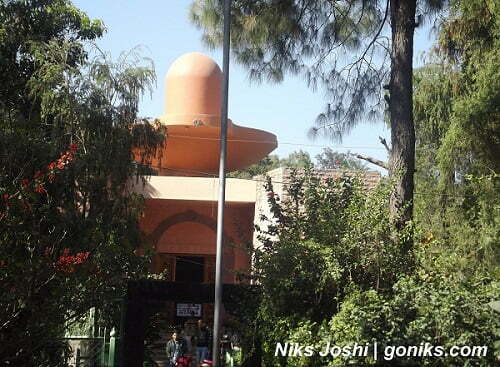 On a hill, there is a fort which is popular as Achalgarh fort.This Fort was constructed by Parmar rulers. It was being renovated and named Achalgarh by Maharana Kumbha. This is a hill fort along with a pond inside the fort premises. There is a temple outside of the fort, Achaleshwar Mahadev temple where devotees worship the toe of lord shiva.
Also, read- Forts in Jaipur
How to Explore Mount Abu Rajasthan
There are many places and things to do in this town. To visit these tourist places, you can pick up a bus or taxi. Also, hiring a cab is a good option. Although bikes are easily available for rent to explore this hillstation.
To know more about this place, also visit- Trip to Mount Abu
Attractions of Mount Abu Sightseeing
Highest Peak of Rajasthan- Guru Shikhar
Lush-green Landscapes to Explore
Jain temples- Delvada Jain temple
Hindu temples- Arbuda Devi temple, and others
An enticing lake- Nakki Lake
Hotels in Mount Abu
Hotels are a bit expensive here as it's a hillside. You can book hotels online. And, online booking is much better for this place as hotels are much expensive offline. Hotel booking in mount Abu is not easy if you prefer offline booking. So, hotel booking before the mount Abu trip is the best option.
Other Places to Visit in Mount Abu
Raghunath Temple
Bharat mata Temple
Peace Park
Markets in the town
Trevor's tank
Gaumukh temple
Bhrigu ashram
Nearby destinations- Amba mata temple, Ahmedabad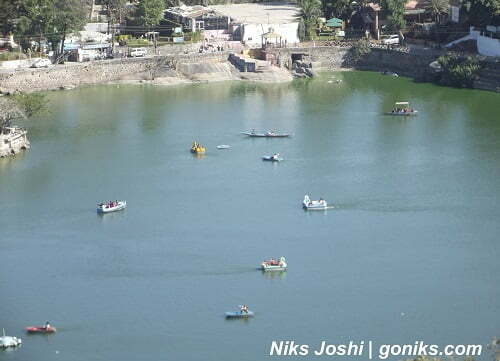 FAQ's About Places to Visit in Mount Abu
Q1. How much does it cost to explore this hill station?
It may vary as per needs. For a budget tourist, it costs around 700 rupees per day.
Q2. How much time do I need to Visit mount abu?
It takes atleast 3 day to experience popular tourist places to visit in mount abu.
Q3. Which are the best tourist places to visit in mount abu?
You must visit Nakki lake, Guru Shikhar peak point, and also toad rock.
Q4. Can I book Mount abu tour package?
Yes. We offer the best holiday packages in Mount abu. Contact us at 9588839997 for details.
Q5. What is distance from Udaipur to Mount abu?
The distance from Udaipur to Mount abu is 170 kilometers. It takes 3 hours by taxi or bus.
Mount Abu Sightseeing Cost
A trip to mount Abu hill station depends on your lifestyle and hotels that you prefer. However, budget hotels starts from 500 rupees to 5000 rupees per night. But, if you need good accommodation then book hotels in advance. Contact us to get best prices on mount abu trip.
Book a tour package with us to spend 3 days in Mount Abu. This is inclusive of hotel, food and guide charges.
Also, visit- Things famous in Jaipur
Tourist Places Near Mount Abu
If you like this post, drop a comment below. And, also follow us to get updates.