Kanak ghati is a garden in Jaipur, located about 5 kilometers from Jaipur city. This place is good to relax and feel the nature. It is surrounded by landscapes and natural views which makes it an awesome place.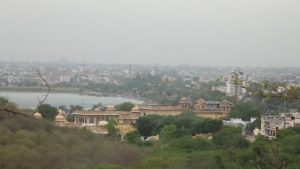 Kanak ghati view
To reach here we pick-up an auto from Badi-chaupar to Kanak ghati. It took about 20 minutes to reach the destination.
After taking entry tickets, we headed inside this beautiful garden. This is the most memorable place in Jaipur, as there are landscapes and sceneries all around. Along with this, the waterfalls and sound of animals make it much interesting.
This place is located on the way to a town in Jaipur which is known as amber which is surrounded by greeneries and stunning landscapes. Those views are pleasing for nature lovers.
In this garden, there is a waterfall. Even if it is artificial but looks like the natural one. In front of this, a lotus pond with some statues and the surrounding atmosphere is no doubt amazing. Statues of Lord Krishna and some other ones are unique and attractive. It is a beautifully tended garden.
This garden is also known as Kanak-Vrindavan ghati. It was built approximately 275 years ago which is themed on Raas of Lord Krishna with gopi which is located in Vrindavan valley. This valley is also known as Nahargarh valley.
There is a temple of Lord Krishna near this garden which is known as Govind devji temple(old).


Attractions:
Amusement for kids

Landscapes and Natural views

Lotus pond with statues

Waterfall and sound of animals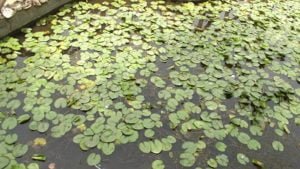 Lotus pond at garden
This is a peaceful place to visit in Jaipur. This is no doubt impressive for anyone who visits Kanak ghati. The fountains and water pond make it an adorable place. The natural views surrounded by Aravali hills makes it beautiful.


History of Kanak ghati:
This was built by Maharaja Sawai Jai Singh to spend some time in winters. It shows childhood activities of Lord Krishna that's why it is known as Kanak Vrindavan garden. It was made for guests and royal families to spend some time.
It's a perfect place for couples and family trips as well for a picnic. Even kids can enjoy amusement and other activities in this park.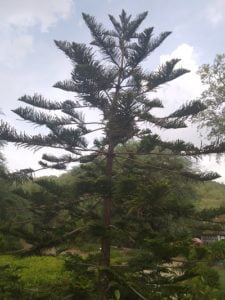 tree at the garden


Things to know about Kanak ghati:
Distance from the city- 5 km
Location- Kanak Vrindavan Ghati (near jalmahal palace)
How to reach- Pick a bus from Badi chaupar, or hire auto/ cab
Kanak ghati Jaipur timing- 8 AM to 6:30 PM
Entry ticket – 35 rupees per person
Nearby tourist spots- Nahargarh Fort, Jaigarh Fort, Amber Fort
Best time to visit- Winter season

The caretaking and maintenance of this garden are really appreciated. Kanak ghati is secure and safe to visit. It is the best place to take some beautiful pictures. Good natural lighting, and views in the background make it a perfect location. This is an awesome place for photography and shooting.
Sightseeing in Jaipur must include this cool place. If you want to relax and have limited time then this is a good place even for one day tour in Jaipur.
Some good hotels are available near this garden.
Jaipur is one of the most beautiful places with hills and forts. The crowded city has many things of attraction. There are adventurous and mysterious places like this Kanak ghati which not everyone knows about. Places to visit in India include Jaipur as the most favorite city of tourists. This garden is among the best places to visit in Jaipur.
As Jaipur is located near to Delhi, there are some famous tourist places which tourists must visit. Jaipur comes in golden triangle tourist cities so if you visit this city, then spend some time in this peaceful garden. There are some other destinations in Rajasthan which shows the culture and heritage. Hill stations in Rajasthan include Mount Abu and some regions in the south of Rajasthan.
Jaipur is well connected with other cities so you can find flights to Jaipur directly. You can hire a guide to know all the details about places or pick a tour package in your budget.
If you like this post you can share it with your friends. Also, follow this blog to stay updated with all new posts or regularly visit goniks.com to know more about all new blog posts.

follow us on social networks-
facebook- facebook.com/goniks007
Instagram- instagram.com/goniks7
A blog By Niks Joshi