Ujjain is famous for Mahakal temple. This is among Jyotirlinga of lord shiva. Ujjain is located in Madhya Pradesh. It's about 50 kilometers from Indore which is a major city of this state. Mahakal is a temple situated on side of Rudra Sagar lake. This is among twelve Jyotirlingas of Lord Shiva. Ujjain is known for mahakaleshwar temple.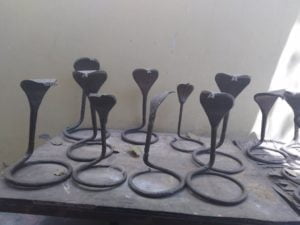 After riding the bike for an hour we reached Ujjain. Though the highway is fine it was tiring. Using maps we reached mahakal temple. As it was a Tuesday, the crowd was not much. Then we headed to the temple.
Singhhasth Kumbh was also organized here. This is a popular place for those who believe in lord Shiva. I am impressed by the proper arrangements in this temple. The path is arranged in a way that crowd can be maintained even in high rush time. Many peoples come here to pray god on occasion of Mahashivratri.
The shivling covered with a glass box is Jyotirlinga. Devotees can give milk and Prasad(food offered to god). There is a separate place where milk can be poured to that shivling. As this is not allowed to go inside the chamber of a jyotirlinga, you can only see it from a distance. Then after waiting for a few minutes, we pray to god and move on. This temple is very well organized and maintained by authorities.
Tilak with Om looks very good. I like it. This mahakal temple is also famous for "Bhang" which you can get near to this temple. It's intoxicated to try this. We took half-doze in two glasses. This is allowed in Hindu religion but in a controlled manner. It is considered as Prasad of lord shiv But I don't suggest as it affects the body after an hour. Make sure about your safety if thinking to try this.
Tip- Take this on your own risk. Bhang is actually made of herbs which is intoxicated.
(Pictures not allowed)
This is a very good place. Mahakal means lord shiv who is the king of this universe. This is a common saying that No king stayed a night in Ujjain because Lord shiv (Mahakal) is the only King. In case, if he stays the night here then he can't wake-up next morning. All Jyotirlinga has a specific name. This one is called as Mahakaleshwar. There is also another temple here which is Nagchandreshwar temple which only opens on the day of Nagpanchmi.
(No pictures allowed)
You can give your feedback below freely. If have any queries ask me. Take permissions before using any pictures from this page.
A blog By Niks Joshi